The Battle Station
We track through Adam A8x monitors and through Sonar Platinum DAW. A clean tidy works-station is crucial to keep creative juices flowing!
Alesis DM8 E-Drum Kit
Our Alesis DM8 E-Drum kit has been modified with mesh heads for better playability. We've also 2 extra cymbals, well cause you can never have enough cymbals.
Guitars and Bass
Our studio guitars includes the following:
Bacchus Telecaster, Ovation Electric-Acoustic guitar, Bacchus Jazz 5, Strandberg Boden OS7, Schecter Jeff Loomis 7FR (with Bareknuckle Blackhawks), Ibanez RG1527 (with Bareknuckle Aftermath set), Ibanez RG2550z (with Bareknuckle Emeralds set), Epiphone Les Paul Standard (with Suhr SSV Bridge pickup), Skervesen Raptor 6 (With Bareknuckle Blackhawks), Epiphone Cherry Dot, Takamine Dragon Acoustic (not in picture).
Mesa Boogie Mark IV & Mesa 2x12 Cabinet
The Mesa Boogie Mark IV is well known for its versatility and infinite possibilities with all its various push-pull knobs and settings. Most well known for its endorsement by guitarists and bands such as John Petrucci & Lamb of God to name a few.
The Mesa cabinet with v30s is a staple in almost every single metal recording, what else is there to say?
Note: We no longer own the Kemper Profiling Amp pictured.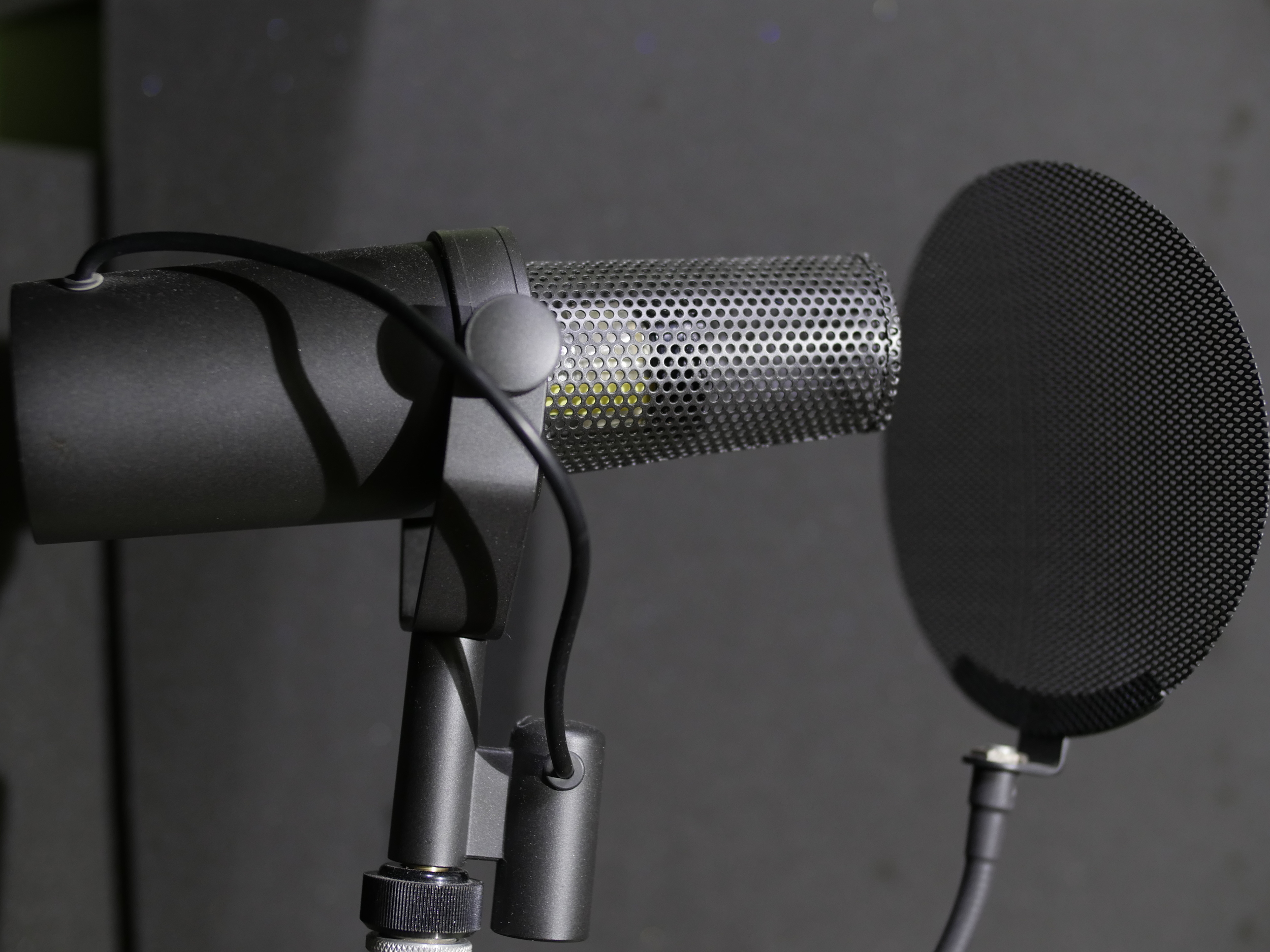 Shure SM7b
Our go-to microphone for everything vocals. An industry standard that has been seen on albums from Michael Jackson's Thriller to Metallica's Black Album, this mic can handling anything from angelic clean vocals to harsh screaming vocals.
*strandberg Boden OS7
Swedish designed fanned fret 7 string guitar with Bareknuckle Blackhawks. Superbly ergonomic guitar and almost weightless!
Dingwall NG-2 5 String Bass
The Dingwall NG-2 is Adam "Nolly" Getgood signature bass which boasts a Darkglass Tone Capsule active preamp and also a switchable passive circuit. The 34-37" fan fret allows for low tunings to still sound heavy and clear.
Bacchus Telecaster
Bacchus has been known to make value for money but awesome sounding guitars. Get that classic telecaster single coil twang with these yellow beast!
Ibanez RG2550z
Our go-to tracking guitar for 6-string metal stuff, equipped with Bareknuckle Emeralds set pickups (not shown in picture).
Skervesen - Raptor
Skervesen Raptor 6 string guitar, equipped with Bareknuckle Black Hawk pickups.
Epiphone Les Paul Standard (Korean)
Made in Korea Epiphone Les Paul Standard with Suhr pickups along with that beautiful birds eye maple top! Great for rock and alternative stuff!
Fractal Axe-Fx II - Guitar Amp Modeller
The Fractal has been known for its world-class grade effects and amplifier modelling technology. This is one of our go-to amp modellers for everything guitar. With almost endless routing possibilities for your delays, reverbs, modulations and effects, one can dial in almost any kind of tone with this unit itself.
ART Dual Reamp Box
As many guitarists own their set of pedals, we offer a hybrid reamping service to connect such analog pedals into our digital guitar amp modellers. Allowing the analog pedals to be either inserted into the digital effects loop chain or to the front of the virtual amp modelers.
Behringer Powerplay HA4700
The Behringer Powerplay headphone amplifier allows up to 4-channels of amplified signals for headphone jamming with individual controls of bass and treble. Vital for providing a good mix for the individual musicians to jam or track along together as a band entirely through headphones.
Studio Projects VTB-1 Tube Pre
The tube preamplifier is great for extra gain and giving instruments or vocals the extra tube drive when driven hard, it also offers a tube blend knob to achieve a less pronounced effect, blending in with the clean solid-state circuitry.
Matrix GT800FX Power Amplifier
The matrix is often seen used with amp modellers such as the Fractal to drive an actual guitar cabinet. The matrix is specially designed to be tailored to digitial amp modellers to provide a good flat unadulterated signal to the guitar cabinets, allowing you to have a good translation from the AxeFX to the guitar cab.
Focusrite Saffire Pro 40
This is the studio's go-to firewire audio interface, allowing up to 8 channels of inputs by itself, with additional 8 more through the ADAT inputs at the rear panel.